Training Courses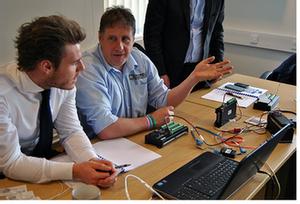 Campbell Scientific offers several different multi-day training courses for our data loggers and software. These comprehensive courses are designed for those without much experience of data logger programming or communications, or for those wanting to increase their knowledge. The courses have an emphasis on programming; see individual courses for itinerary. "Hands-on" programming exercises and course handouts are used to reinforce the concepts covered by the instructors.
Datalogger Programming in CRBasic Training Course - 2 Days
Download a brochure on this course here
Our 2 day Programming and Software course is suitable for all users of Campbell Scientific data loggers.
The first day of the course provides a good introduction to using our software to administer, program and collect data from the new generation of data loggers. The second day will teach you the basics of customising a datalogger program to suit your sensor and data storage requirements.
Suitable for users of CR200, CR300, CR6, CR800, CR1000 or CR3000 data loggers, beginners are welcome. Bring along any sensors that you are using with the data loggers and we can help with any wiring or programming concerns.
Cost - please call or email. Discounts of up to 50% are available for multiple delegates from the same company on the same course or where a delegate books on two consecutively running courses
Datalogger Communications Workshop - 1 Day
This introductory practical session will be led by one of our senior applications engineers and will provide plenty of opportunities to get your hands on the latest hardware.
So if you want to learn more about any of the following then this workshop is for you:
GPRS/GSM Comms / Ethernet Comms (inc. logger email & FTP capability) / Satellite & Radio / Pakbus Comms / Data Routing & Management / Logger-based Web Displays.
For users requiring a deeper understanding of datalogger communications are recommended to take the two day intermediate/advance user course below.
Cost - The event is free to attend and buffet lunch/refreshments will be provided.
Datalogger Communications Course - 2 Days
Download a brochure on this course here
Our 2 day communications course is aimed at intermediate to advanced users of Campbell Scientific data loggers wanting to learn how to program for and connect their data loggers to communication networks. The course covers cell phone modems, ethernet networks and spread spectrum radios, how to connect them to the data logger and how to program for these devices to provide information over services such as Email, FTP and SMS. We also cover methods for connecting to and administering a data logger via Loggernet over these communications devices.
There is some intermediate difficulty programming to be done in this course, please make sure that you have had some experience with programming the data loggers before attending or you may not gain the full value of the material. Ideally you will have previously attended the 2 Day Datalogger Programming course and had time to practice the concepts from those courses.
Cost - please call or email. Discounts of up to 50% are available for multiple delegates from the same company on the same course or where a delegate books on two consecutively running courses